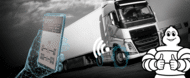 MICHELIN TIRE MONITORING
Ease your integrated workshop's tyre management thanks to the Michelin Digital Inspection solution.

Discover the offer and its advantages:
MICHELIN Digital Inspection is a new generation solution that allows you to optimise your tyre management, efficiency of your workshop, safety, and compliance of your vehicles. Thanks to a set of monitoring and digital tools, MICHELIN Digital Inspection helps the planning of your tyre maintenance operations. You can monitor your stock, predict, and optimize your tyre budget.
Digitalise the management of your tyre expenditure. With a Bluetooth sensor and a smartphone application, gain in efficiency with digital inspections. Use the portal to anticipate and optimise your tyre budget.
MICHELIN - Tire Monitoring Digital Inspection - EN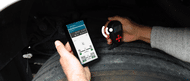 Inspecting
In only five minutes with MICHELIN Digital Inspection, your workshop carries out an inspection of a vehicle's tyre pressure, wear, and condition, whatever the brand.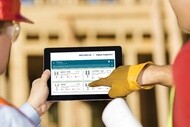 Planning
Your workshop takes action sooner on the vehicle concerned, thanks to an alert system concerning the operations to be carried out.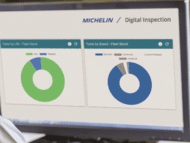 Anticipating
With the reports, your workshop can now anticipate the tasks to be carried out, such as pressure adjustment, regrooving, reversal on the rim and also forecast tyre requirements.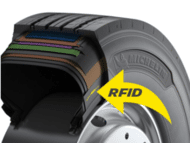 Optimising
With the tracking information recorded thanks to MICHELIN RFID, you have the essential data for optimizing your budget and tyre stock management.
MICHELIN Digital Inspection is…
Efficient : Better anticipation and time saving thanks to a full digital tyre tracking and inspection process
Safe : Up to 30% of tyre breakdown avoided every year*
Saving : >0.5mm of additional tread to use*
*Estimation of the potential gains from the regular use of MICHELIN Digital Inspection and consequent tyre management actions. Estimations based on an internal simulation carried out in Michelin's centre of research and technology.