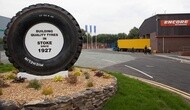 In the UK, the Michelin Tyre Company Ltd was incorporated on 11 May 1905 and is now, more than one hundred years later involved in many activities not just tyre making, from tyre industry training to economic development and publishing.

We have an extensive sales force supporting the thousands of tyre distributors in the UK and the Republic of Ireland from car tyre to truck, agricultural as well as specialist industrial and earthmover, this is backed by a comprehensive sales and technical support.
THE HISTORY OF MICHELIN IN THE UK


Edito Michelin History Homepage
Description de l'histoire de Michelin

When the Michelin Tyre Company Ltd was incorporated in 1905 it started a journey that has lasted over one hundred years. A journey that has had many twists and turns and more than a few surprises. Join us in this journey and learn how we have helped the travelling public over the years. Our heritage module documents that journey, the link below will take you there.
Discover how Michelin has shaped the history of motoring and transport in the UK since 1905.
https://www.michelin.com/en/michelin-group/about-us/history/

FACTORIES & OFFICES IN THE UK

Registered office and Stoke factory
Campbell Road
Stoke-on-Trent
ST4 4EY
Tel: 01782 402000
e-mail: south-court.reception@uk.michelin.com
Download map & route description
Commercial head office and training centre
Campbell Road
Stoke-on-Trent
ST4 4EY
Tel: 01782 402000
e-mail: south-court.reception@uk.michelin.com
Download map & route description
Michelin Travel Partner UK Ltd
The Dairy
Munden Estate
Watford
WD25 8PZ
Tel: 01923 892311
e-mail: travelpubsales@uk.michelin.com
Download map & route description
Customer Service Centre for UK and Ireland
Campbell Road
Stoke-on-Trent
ST4 4EY
Tel: 0800 0318 802
e-mail: south-court.reception@uk.michelin.com
Download map & route description
MICHELIN'S ACTIVITIES IN THE UK
Michelin's UK head office and commercial headquarters is in Stoke-on-Trent with a car tyre factory in Dundee and a truck tyre retreading factory in Stoke-on-Trent. Our Michelin Travel Partner division, publishers of the famous Michelin Guide, is in Hertfordshire.

The internationally-renowned Michelin Training and Information Centre in Stoke-on-Trent pushes up standards with programmes aimed at transforming knowledge, safety and service across the tyre industry and beyond.

We operate a customer service centre for the UK & Ireland from our Stoke-on-Trent headquarters which provides the first line of contact between us and our customers.
Manufacturing: Retreading in Stoke-on-Trent
At the Stoke-on-Trent factory we retread truck tyres allowing hauliers to get significant extra mileage from their tyres for relatively little extra cost. This also benefits the environment as it reduces the amount of tyre casings that have to be scrapped. These products are branded as Remix and Encore.
Economic development: Michelin Development
Michelin has always been involved in supporting local communities, both socially through participation in local initiatives and in the form of business mentoring and low-coast business loans through Michelin Development. Michelin Development helps local businesses grow and it creates high-quality, sustainable jobs.

Working in conjunction with regional development agencies, local government and business support agencies in Ballymena, Dundee and Stoke-on-Trent, Michelin Development also aims to stimulate employment creation by attracting inward investment.

More about Michelin Development http://www.michelindevelopment.co.uk
Brand licensing: Michelin Lifestyle Ltd
Based at the Stoke-on-Trent headquarters, Michelin Lifestyle Limited (MLL) is responsible for Michelin's world-wide brand licensing programme. MLL works with licensing partners to develop innovative, stylish and desirable Michelin products in the areas of automotive accessories, cycle accessories, footwear, apparel, accessories and equipment for work, sport and leisure and a range of gifts, collectibles and personal accessories promoting Michelin's heritage and culture.
Publishing: Michelin Travel Partner
Michelin Travel Partner operates from offices in Hertfordshire, distributing Michelin maps and guides throughout Britain and Ireland. The Sales team supports retailers and provides customer service to end users, whilst Editorial includes the Michelin inspectors, responsible for researching the world-renowned and annually revised Michelin Guide Great Britain and Ireland.
You can buy directly from us with our secure online shop at travel.michelin.co.uk
Tyre Industry Training: Michelin Training Centre (MTIC) in Stoke-on-Trent
Based in Stoke-on-Trent, MTIC provides comprehensive training in all areas of the tyre business. Courses cover all technical aspects related to tyres, accident investigation, hands-on fitting and maintenance techniques, as well as sales, management and health and safety. MTIC also runs mystery shopping exercises and it will create bespoke courses built around exact customer needs
Visit Michelin's Training Centre
Commercial activities: UK & Ireland
Michelin takes pride in having an extensive sales force in the UK and Ireland representing its products. Each member of the sales force is a specialist in one or more ranges of products within their geographical area. All sales staff receive comprehensive and ongoing sales and product training keeping them up to date with the latest developments.
WORKING AT MICHELIN IN THE UK
Michelin is committed to offering engaging careers with a focus on development. For more information visit jobs.michelin.co.uk
Click here to search available jobs and to apply
Organisations that we support:
Supporting manufacturing in North Staffordshire.
More about Make it Stoke-on-Trent