tractor in field 1920x400
MICHELIN Exelagri
The Michelin Exelagri network is a collective of agricultural specialist tyre partners located throughout the whole of the United Kingdom and Republic of Ireland offering high quality tyres and tyre services.
About the Michelin Exelagri Network
The MICHELIN Exelagri label, which was introduced in 2004, indicates that an agricultural tyre outlet has been certified as providing a high level of service tailored to the needs and expectations of farm operators.
MICHELIN Exelagri is a guarantee of quality and professionalism for farmers. For them, a certified dealer represents a reliable partner who can provide customised advice and support for technical operations.
To obtain the MICHELIN Exelagri label, a dealer must meet a strict set of specifications that allow it to offer the following services to farmers:
Advice: so that an appropriate tyre, suited to both the equipment and conditions of use, can be chosen.
Emergency repairs: guaranteed even during periods of intense farming activity, such as grain and grape harvesting.
Geometry: to get the right settings on agricultural machinery to optimise tyres and fuel use and guarantee an improved Total Cost of Ownership (TCO).
Ballasting: effective in certain conditions of use, it requires precise skills to use the right quantity of water and antifreeze as well as correct sealing. MICHELIN Exelagri dealers have this expertise.
Mounting: tyres can be mounted on site for all machinery, which is a real time saver for farmers.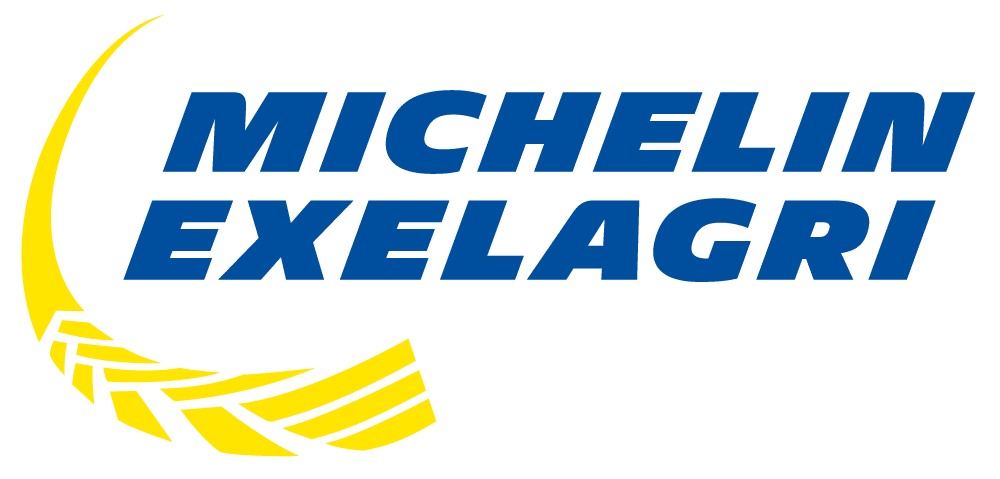 Benefits of using a Michelin Accredited Dealer
As well as receiving quality advice and technical expertise from their Exelagri Dealer, farm operators can take advantage of exclusive offers and discounts on Michelin products, as well as a range of other value-added services. These include:
Campaigns: Michelin runs promotional activity at selected points of the year to support farm operators as they prepare for busy periods, such as spring planting and harvesting. For more info visit our Michelin Offers page
Support Services: Most Michelin Exelagri Dealers offer 0% finance on Michelin products to help spread the cost of the purchase of Michelin tyres. For more details visit the Michelin Offers page.
Pressure Advice: With exclusive access to the Michelin AgroPressure Tool, Exelagri Dealers will provide advice on the correct pressure for your tractor based on the implements being used to ensure that farm operators have minimal impact on soil and can run safely and efficiently on both the road and field.
Exclusive Brands: In addition to the range of Michelin tractor, harvester, telehandler, trailer and sprayer tyres, Michelin Exelagri dealers also offer other quality brands from the Michelin Group such as Kleber and Taurus.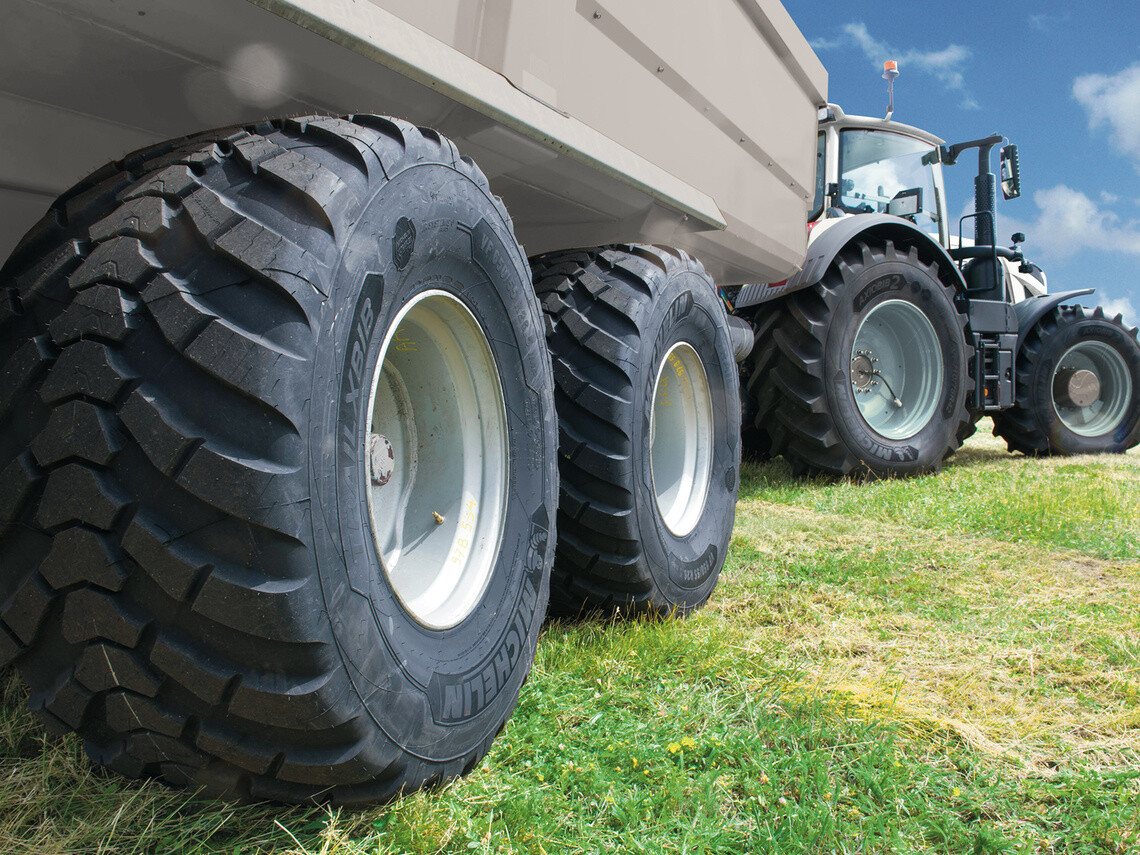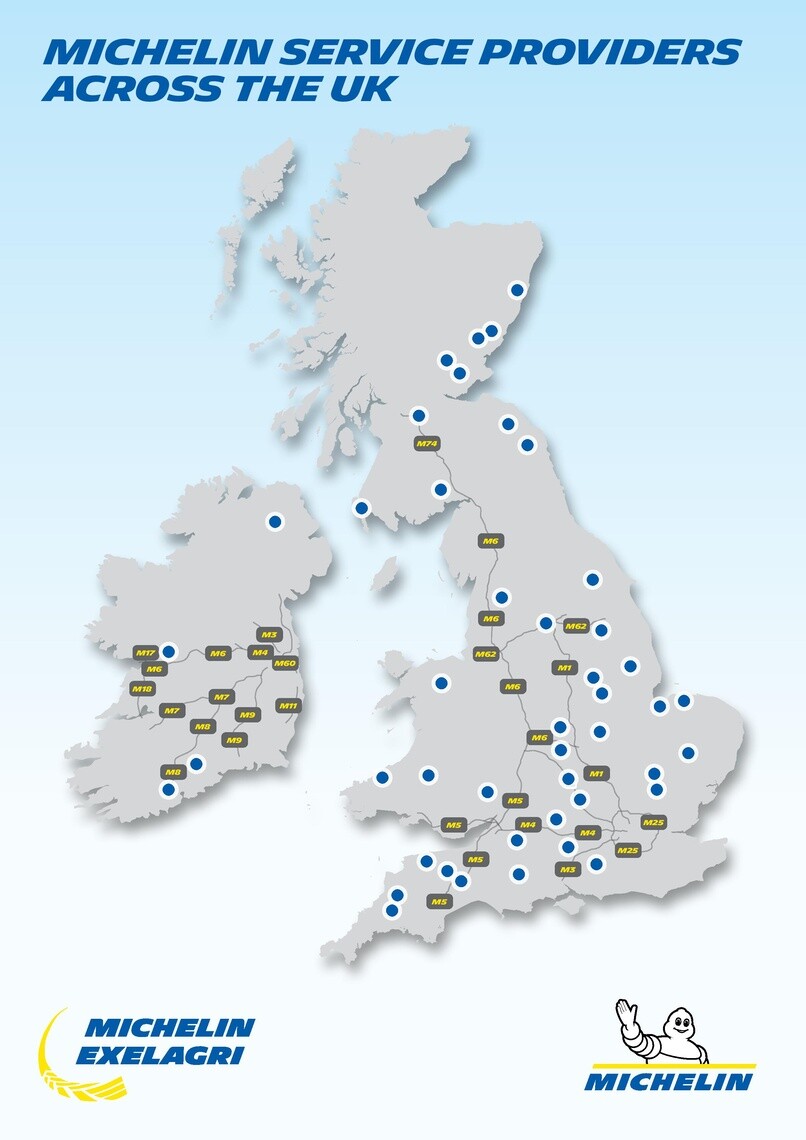 michelin exelagri map a4 2020 v3 page 001
Scotland
Dingwall Tyres / Dingwall
McConechys Tyres/ Stranraer
McConechys Tyres/ Elgin
Redpath Tyres / Duns
Redpath Tyres / Wooler
Redpath Tyres / Forfar
Redpath Tyres/ Aberdeen
Redpath Tyres / Perth
Soltyre / Dumfries
Soltyre / Brechin
Soltyre / Airdrie
Top Tyres / Auchtermuchty
Wales
Llandovery Tyre and Batteries / Llandovery
Saracens Tyres / Corwen
Protyre/ Crymych
North East England
Link Tyres / Dewsbury
Terry Elsey Tyres / Malton
North West England
F G Rowland Ltd / Clitheroe
Midlands
Farmers Tyre / Leamington Spa
Farol Tyres Ltd / Milton Common
Tanvic Tyres / Grantham
Tanvic Tyres / Newark
Tanvic Tyres / Corby
East England
B A Bush and Sons / Horncastle
B A Bush and Sons / Kings Lynn
B A Bush and Sons / Scunthorpe
K and M Tyres / Bury St Edmunds
Lodge Tyres / Norwich
Abbey Tyres / Cambridge
South East & South England
Farol Tyres Ltd / Hungerford
Farol Tyres Ltd /Midhurst
Micheldever Tyres / Winchester
Tyremart / Dunmow
South West England
Blandford Tyres / Blandford
Fastfit Tyres / Westbury
Geoffrey Harris Tyres / Liskeard
Honiton Tyre and Battery / Honiton
North Devon Tyres / South Molton
North Devon Tyres / Tiverton
North Devon Tyres / Launceston
Paul Jarrold Tyres / Monmouth
Northern Ireland
J B Tyres / Magherafelt
Republic of Ireland
Kevin Burke Tyres / County Galway
O Hanlon Tyres / Cork
Rathcormac Tyres / Cork
Lusk Tyre Company / Dublin