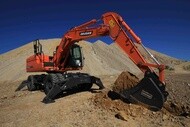 Background wheel excavator Construction and Industry
pneu Génie Civil MICHELIN
Services – Construction & Industry
Don't leave anything to chance
To choose Michelin to equip a fleet of Construction or Handling machines is to make the choice of tyres known across the world for their performance. It also means being able to benefit from the advice of our experts, present on the ground and at your side, in all areas associated with tyres and their application on sites, with a view to optimising their use.
To choose Michelin is to have access to a range of services, all with the same objective: to make sure that Michelin tyres, high-technology products, achieve their full potential on a daily basis.
Improving tyre maintenance throughout their service lives, managing all your fleet's tyres with the help of connected solutions, treating and recovering used tyres… these are the services offered by Michelin and its partners across the world.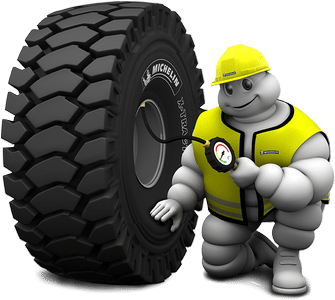 Logo pressure advisor service Help and Advice
PRESSURE ADVISOR

Your online search tool to find reference pressures for your construction machine tyre.
Management of the recycling and recovery of used tyres
Recycling and recovery of used tyres
Wherever it can, Michelin supports and helps to set up structures to deal with the collection and recycling of used tyres. Civil Engineering tyres, depending on their size, can be treated by the same recovery channels as all other types of tyres. A number of industries around the world have turned to used tyres as an alternative fuel in the furnaces of their thermal power stations, industrial boilers, incinerators, cement works, etc. In the United States, more than 150 million tyres have been transformed and used to generate energy over the course of the last ten years.
Used tyres have also found many other applications: incorporated in the constructions of waterproof structures, used as infill for earthworks or put to use in noise-resistant walls, they constitute a raw material possessing numerous advantages. They can also be found in road surfaces, increasing their durability and cutting down traffic noise.
Repairable tyres
All our Civil Engineering and Handling tyres are repairable to the extent of the damage that they have suffered. Any repair must be carried out by a Michelin-accredited professional. It will enable you to extend the life of your tyre.