tractor in field 1920x400
Geoffrey Harris - Exelagri Accredited Centres
The Michelin Exelagri network is a collective of agricultural specialist tyre partners located throughout the whole of the United Kingdom and Republic of Ireland offering high quality tyres and tyre services.
Geoffrey Harris
Dealers information
GEOFFREY HARRIS TYRES / STATION ROAD / LISKEARD / PL14 4DA
01579 347744

'This family run, 3rd generation business is proud to have served farmers throughout Devon and Cornwall for more than 50 years!'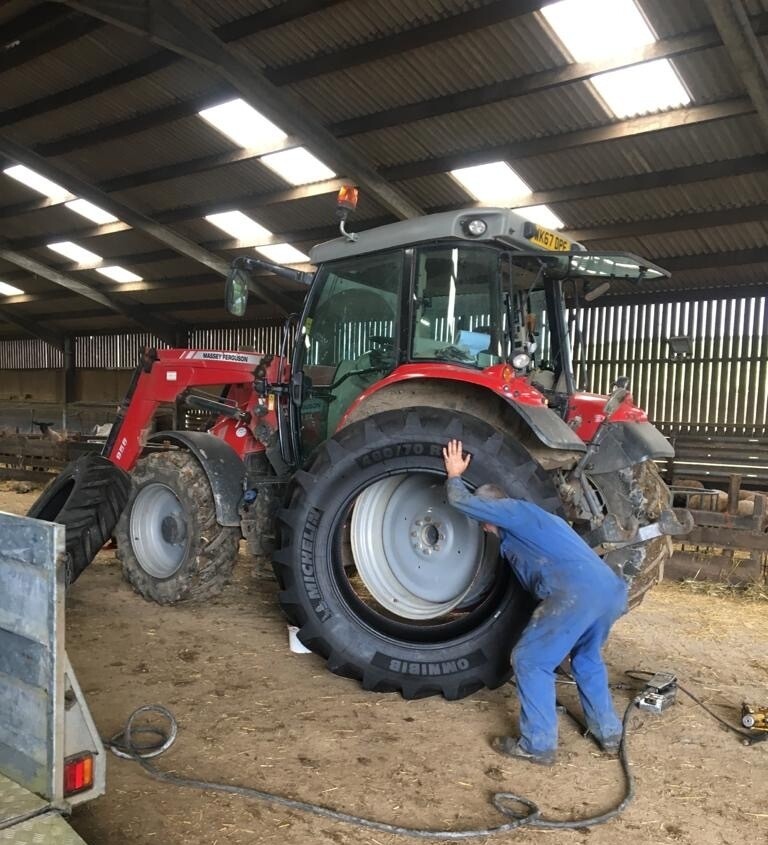 321331c0 322f 42c4 8ed7 e186fe5dd5c5
FIND OUT MORE

Want to find out more about Geoffrey Harris and discover their experience of the MICHELIN Exelagri network? We asked them to tell us about thier business:
What is your Full Business Name?
Geoffrey Harris Tyres Limited
How many Exelagri-accredited locations do you have in the network?
We have 1 accredited MICHELIN Exelagri location in Liskeard, Cornwall.
Approximately how many years have you been supplying Michelin agricultural tyres?
We have been selling Michelin tyres for over 50 years.
What makes your business stand out from other local tyre dealers?
We hold large quantities of Michelin agricultural tyres in stock & have long serving, experienced salesmen who specialise in the agricultural sector, and can ensure to keep the farmers going 24/7.
Tell us about one particularly memorable agricultural job that you have carried out?
Every job is memorable as no two jobs are the same. In Cornwall, fixing a combine on the headland looking out at the Atlantic sea on a July summers day can't be bad!
How has being part of the Michelin Exelagri network benefited your business and your customers?
The cash back offer and Flexelagri finance makes the Michelin brand stand out from the competitors. Coupled with the knowledge that we are buying the tyre at the very best pricing out there, gives us all the reassurance we need to confidently sell the brand.
What's the most popular Michelin agricultural tyre you fit (i.e. Michelin XeoBib)?
In your opinion, what's the best performing product in the Michelin agricultural range and why?
The 460/70R24 BIBLOAD HARDSURFACE. Farmers are finding that although specifically for hard surfaces, they are also performing well in the field- no other tyre in that size will out perform this one.
What makes Michelin tyres so popular amongst your customer base?
They are constantly performing to high standards, hard wearing compound with a comfortable ride.
Is there any other information about your business that you would like to tell us about?
This family run, 3rd generation business is proud to have served farmers throughout Devon and Cornwall for more than 50 years!