MICHELIN XDR+
Longevity
Robustness
Surface Mining
MICHELIN

XDR+
Longevity
Robustness
Surface Mining
Tyres designed to run cooler and increase your productivity
Increase in TKPH
Improved wear rate
Increase in TKPH
Increase TKPH (1) without compromising tyre life thanks to a new, more ventilated tread pattern
Improved rate of wear
Designed to extend the tyre life through the use of new rubber compounds that optimise the wear rate.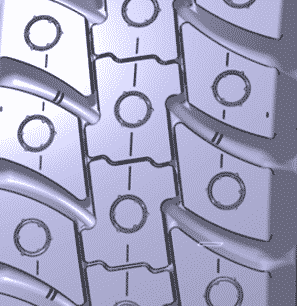 picto xdr tread 23 56 297 306 max tyre
No result
All dimensions (2)
Technical Specifications
Overall Diameter

Tyre overall diameter and not only the rim

0 mm

Overall Width

Tyre width between the two sidewalls

0 mm

Recommended rims

Approved rims

Rolling circumference (mm)

0

Filling volume 100% (lts)

Tread depth

83 mm

CAI

International Article Code

217595

Loaded radius

0 mm

TRA code
(1) According to the Michelin 2018 Databook. The real results may vary. 30.00 R51 XDR® B TKPH: 643; 30.00 R51 XDR®+ MC TKPH: 804 (+25%).