Edito regrooving hero image Freight transport Help and Advice
Un pneu en phase de recreusage en usine
REGROOVING
New tread patterns to prolong the life of your tyres.
What is regrooving?
Regrooving involves removing rubber from the layer of existing rubber to restore tread pattern depth.
All MICHELIN tyres applicable for regrooving, are marked "REGROOVABLE" of the tyre sidewall.
The technique is recommended but ETRTO*. Right from the design stage, Michelin provides a sufficient thickness of rubber to allow regrooving without adversely affecting the tyre strength of robustness.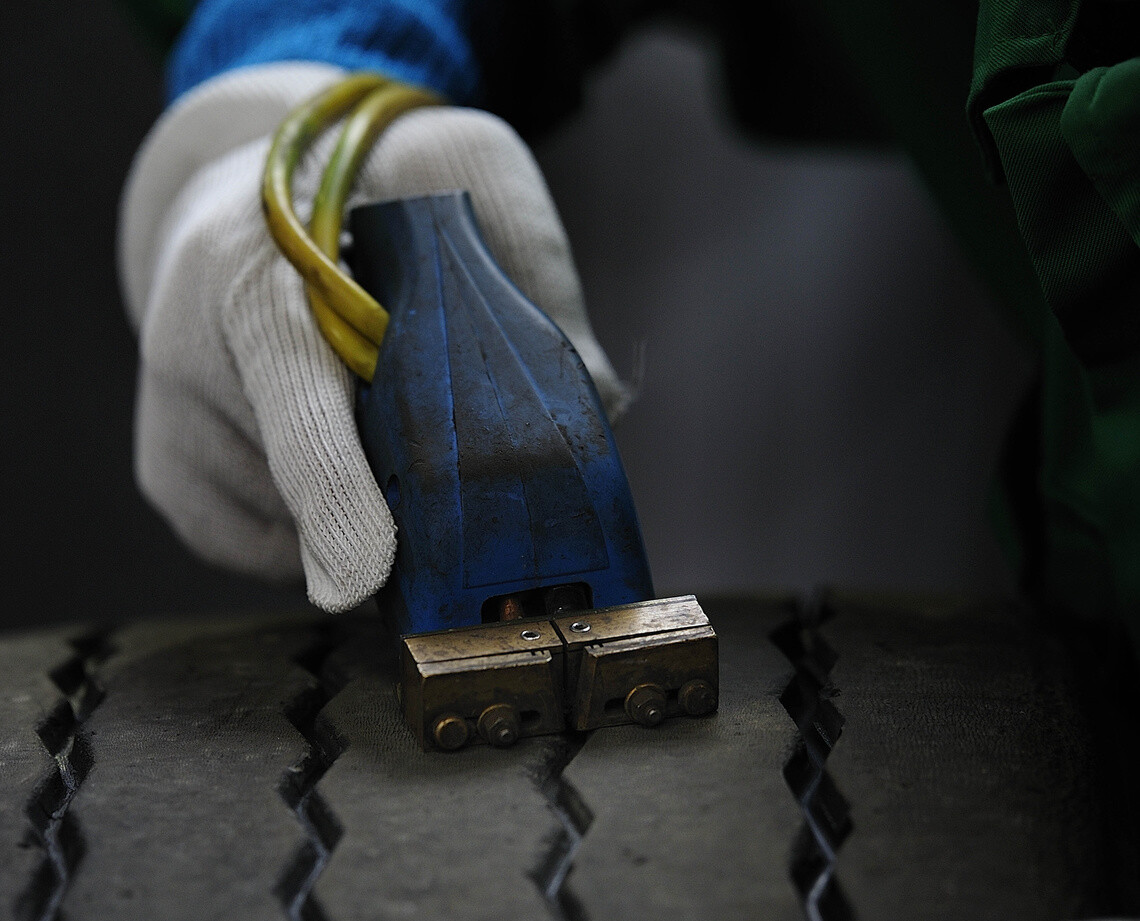 Edito regrooving-michelin Help and Advice
1. Longer life
Regrooving extends the potential life of both new Michelin tyres and Michelin Remix® tyres by restoring tread depth, delivering on average an increased mileage potential of up to 25%.
2. Fuel efficiency savings
Save up to 2 litres/100 km*.
Regrooving, done when a tyre's rolling resistance is at its lowest, also improves fuel consumption. The up to 25% additional mileage offered by regrooving is created in the period when consumption is at its lowest.
3. Extra grip
Improve grip, increase safety. Regrooving restores tread depth, leading to improved grip and optimum safety on the road. On wet roads, regrooved tyres improve transverse grip and traction by around 10% compared to similarly worn non-regrooved tyres**.

4. Reduction of your environmental footprint
By reducing fuel consumption and increasing mileage potential, regrooving helps protect the environment. When regrooved, a tyre's service life is extended during the period when it consumes the least fuel. This helps you reduce your CO2 emissions by up to 1.1 kg/100 km per axle.
By extending the lifespan of new MICHELIN tyres and retreaded MICHELIN Remix tyres up to 25% you could save one tread for every four tyres you regroove.
Regrooved tyres can still be retreaded as MICHELIN Remix tyres. The approval rate for MICHELIN Remix retreading is identical for regrooved and non-regrooved MICHELIN tyres: 90%***.
5. Regrooving in practice
The operator and his or her company can be held liable if regrooving differs from the manufacturer's recommendations (compliance with the pattern, depth, blade, etc.).
Regrooving when 2 to 4 mm of tread depth remains makes it possible to:
• reproduce the tread pattern
• adjust the regrooving depth so as to always retain a tread thickness of at least 2 mm between the bottom of the tread pattern and the plies when the tyre does not have a depth indicator.

Excessively deep regrooving can:
• cause damage leading to the premature destruction of the tyre
• jeopardise approval for retreading
• reveal the plies in the bottom of the tread pattern, which makes the tyre non-compliant with the law

Do not regroove if:
The tread presents serious signs of damage: holes, scratches, cuts, stripping, etc. In this case there is a risk that metal plies will rust: this type of damage can cause the tyre to deteriorate rapidly when in use, potentially causing a sudden blow-out.

Fitting regrooved tyres:
To avoid taking vehicles off the road for too long during regrooving, we recommend that you have some fitted assemblies in stock so that the operation runs as smoothly as possible.
6. Regrooving patterns
To assist you with regrooving, we provide you with all the regrooving patterns suited to each tyre range, according to the specific features of their tread.
You will find these patterns and more information on carrying them out (blades, depths, etc.) in the technical information section of each regroovable tyre's product page. You can also download the summary document directly by clicking below.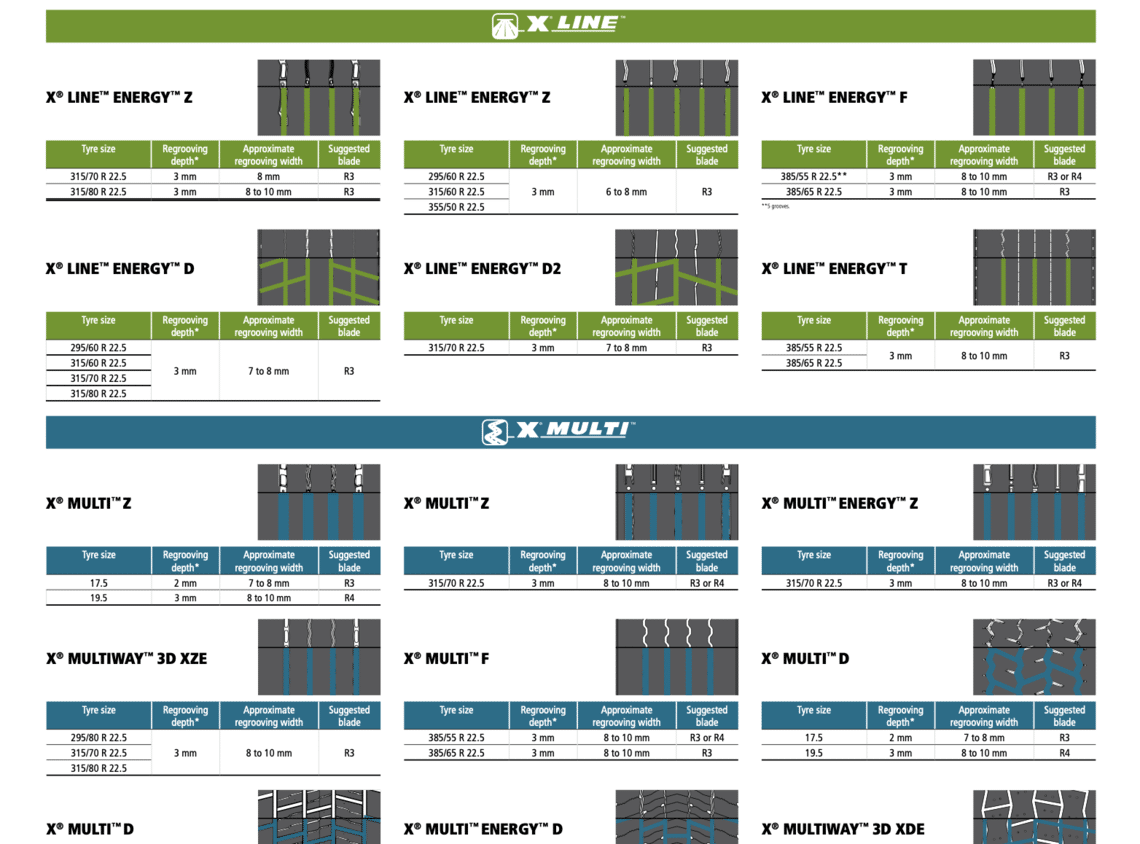 Picto regrooving patterns large Help and Advice
Testimonials – MICHELIN MULTI-LIFE at VAN MIEGHEM LOGISTICS

Here is a new episode of our "Testimonials" series with the Belgian company VAN MIEGHEM, specialising in goods transportation. It's their turn to tell us about their experience with the Michelin Multi-Life approach.
MICHELIN - VAN MIEGHEM testimonial - EN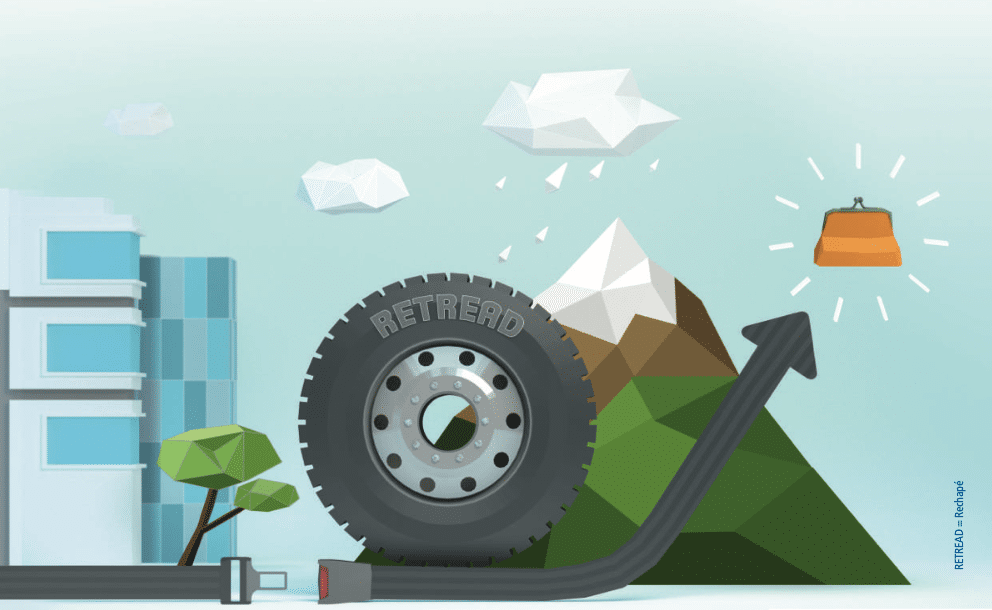 Picto retreading white paper Help and Advice
WHITE PAPER
Competitiveness, safety and environmental protection are key issues for transport industry professionals. That is why they welcome any solution that drives the performance of their business and helps them control operating costs.
In this respect, tyre management plays an essential role. Everything you ever wanted to know about life extension solutions for your truck tyres can be found here: happy reading, safe driving, and long live your tyres!
Find out more: RETREADING
Regrooving is not the only solution that can prolong the life of your MICHELIN truck tyres. Find out how retreading can give them new lives!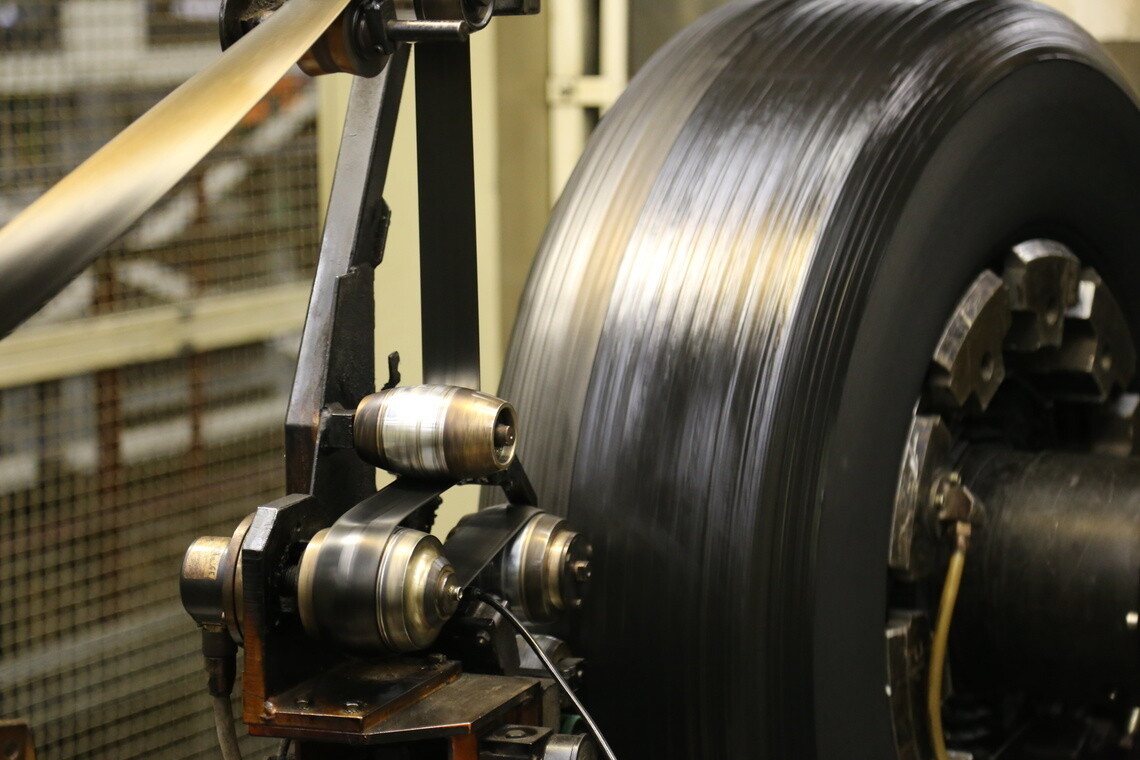 Edito picture regrooving retreading visit hamburg Freight transport Help and Advice
Rechapage d'un pneu en atelier
*1.94 litre/100 km independently witnessed and certified in June 2007 on a unit equipped with regrooved MICHELIN ENERGY™ tyres and a unit equipped with non-regrooved MICHELIN ENERGY™ tyres.
** Internal Michelin source: test conducted on polished concrete.
*** Michelin study conducted on 1 million tyres provided for Michelin Remix retreading in 2008 and 2009. The difference in the approval rate between retreaded regrooved tyres and retreaded non-regrooved tyres is below 0.2%.