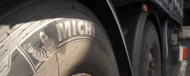 Background Michelin truck tyre mounted Help and Advice
pneu michelin monté sur camion
The basics of truck and bus tyres
Introduction to tyre use
A tyre choice must comply with the law and the recommendations of the vehicle or tyre manufacturer, or an official body (size, load index and speed rating, structure, etc.).
You need to take account of the conditions the tyre will be used in so that its performance levels meet hauliers' expectations.
If changes are made to an original vehicle component, you should check that the proposed solution complies with current legislation and the manufacturer's requirements and recommendations (see the regulations in force in the country). In some countries, the modified vehicle must receive an administrative approval.
Any tyre that is second-hand, used or has been involved in an accident must, prior to fitting, be checked carefully by a professional to ensure the safety of the user and compliance with current regulations (see Best practice for tyre fitting and inflation).
Tyre misuse or an unsuitable tyre choice can also help cause some mechanical parts to wear out prematurely.
How do you choose a tyre?
To drive safely and most efficiently, it is important to fit your vehicles with the right tyres and to follow some selection guidelines. There are 4 steps to follow!
STEP 1: determine the right tyre size
The size must be approved by the vehicle manufacturer and must at least meet the axle's maximum load capacity.
An axle's maximum load carrying capacity is set by the vehicle manufacturer in line with current regulations. Simply fitting this axle with tyres that can carry a larger load does not mean you can exceed the manufacturer's approved capacity.
Each tyre size corresponds to one or more suitable wheels, including in terms of rim width: see the ETRTO's "Standards Manual" and/or the vehicle manufacturer's recommendations.
Fitting a tyre on an unapproved wheel can cause: damage to the wheel and/or tyre, an unsatisfactory tyre-to-road footprint, and an abnormal tyre workload which can undermine the safety, behaviour, grip and service life of the tyre.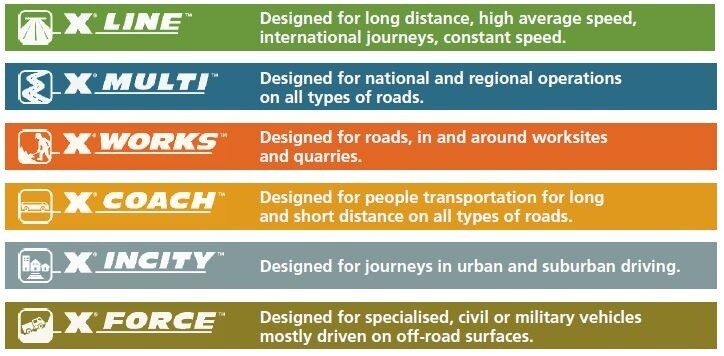 Picto tyre choice page 17 Help and Advice
STEP 2: Choose the correct tyre
The MICHELIN commercial vehicle tyre offer comprises six tyre ranges designed and adapted to each business application and ready to help you optimise your operating costs.
To select the right tyre, we have to take into account the type of use and benefits of each range.

STEP 3: Identify the right benefit
MICHELIN tyres offer benefits depending on the operators specific needs.
STEP 4: Choose the right tread pattern
There are rules which HAVE TO BE followed when choosing the tread pattern of your tyres.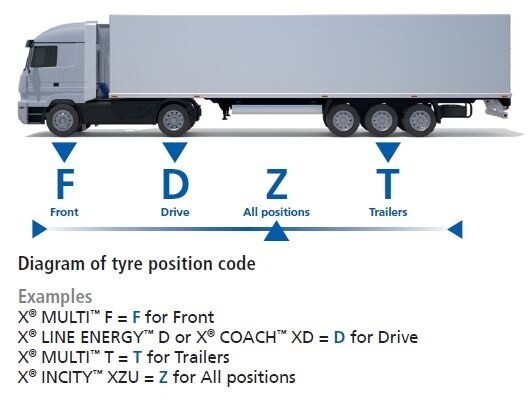 Edito tyre choice page 18 Help and Advice
OTHER RECOMMENDATIONS
For tyres fitted on a steering axle, you must use tread patterns "F" or "Z" only.
These tread patterns are designed and manufactured to cope with the specific stresses and strains imposed on the steering axles of motor vehicles: load capacity, slack with dynamic load transfer, scrubbing, axle geometry, high mileages, etc. We recommend you do not fit MICHELIN Remix tyres on the first steering axle of motor vehicles, including the Z tread pattern.
For tyres fitted on a drive axle, you must use tread patterns "D" or "Z" only.
"D" tread patterns are designed to cope with the specific stresses and strains imposed on drive axles: transmissions of engine and brake torque, twinning, the highest axle load of the whole road-going setup, etc.
Tyres with a "Z" tread pattern can be fitted on drive axles, but given the stresses on this axle, you are likely to strike the best performance balance with "D" patterns. For some uses, "Z" patterns also offer excellent performance when used on a drive axle: in an urban setting, for example.
For tyres fitted on a trailer axle, you must use tread patterns "T" or "Z" only.
These patterns are designed to cope with the specific stresses on trailer axles: static and dynamic loads, scrubbing, high mileages on centre axles, etc.
Tyres with "T" tread patterns show load indices and speed ratings suited to towed vehicles (trailers or semi-trailers). When fitting tyres with "Z" tread patterns, check that the load indices and speed ratings are suited to the needs of the axle.
MICHELIN tyres with "T" tread patterns in Europe display the "FRT" (Free Rolling Tyre) marking, standardised by the ETRTO. "T" tread patterns must therefore never be used on steering or drive axles.
The term FRT (Free Rolling Tyre) is defined in ECE Regulation 54, paragraph 3.1.15.
The inscription "FRT" concerns tyres designed specifically for trailer axles (and axles of motor vehicles other than front steering and drive axles). This regulation applies to all new tyres used in Europe: this means that tyres marked FRT are approved only to be fitted on trailer axles and must not be fitted on other types of axle. MICHELIN also applies the FRT marking to MICHELIN Remix tyres. Michelin shall not be held liable for the consequences of any damage or injury caused by the use of tyres contrary to their recommendations. A 385/65 R 22.5 tyre with the FRT marking can be fitted on the last non-drive rear axle of a motor vehicle.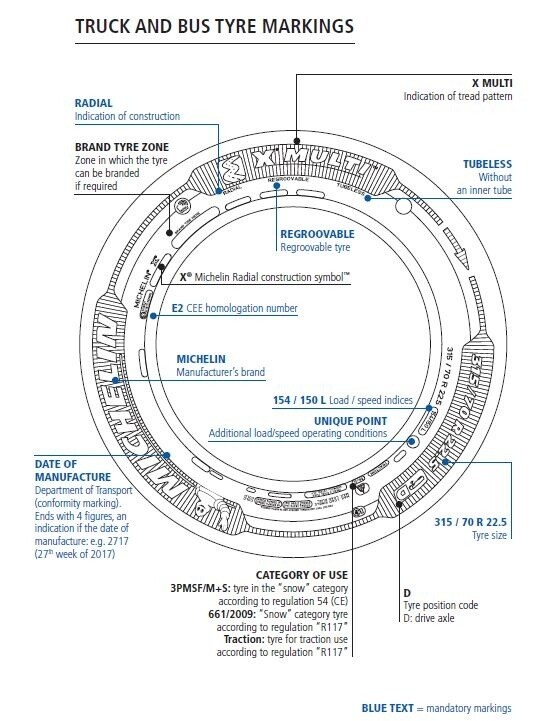 Picto tyre choice page 134 Help and Advice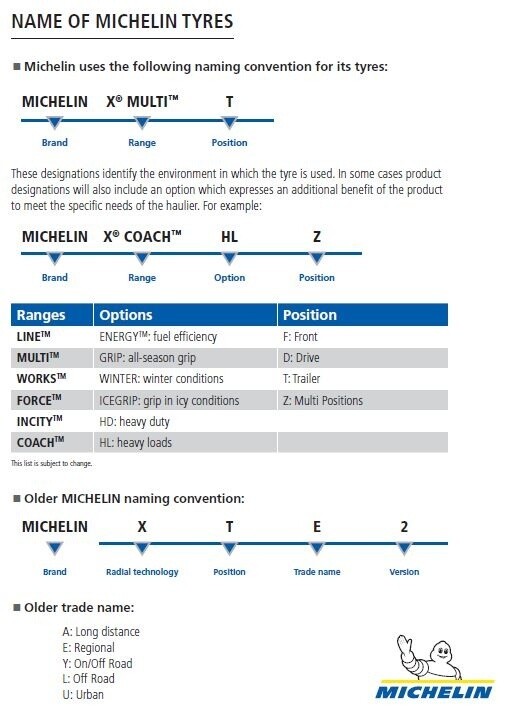 Picto tyre choice page 135 Help and Advice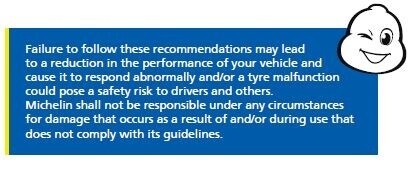 Picto tyre choice page 21 Help and Advice