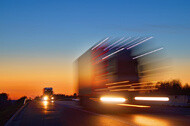 Michelin and original equipment
YOUR ORIGINAL EQUIPMENT PARTNER
The world is changing and transportation sector makes no exception.
As truck and trailer manufacturer or fleet owner, you are managing increasing responsibilities to ensure safety, profitability while reducing your environmental impact.
At Michelin's, our concern is to satisfy both truck and trailer manufacturers as well as fleets thanks to an in-depth understanding of your needs of today and tomorrow.
Discover specific solutions that are fully designed around your expectations and conditions of use.
Michelin, your reliable partner
The MICHELIN brand is accredited by the majority of truck and trailer manufacturers, in most categories of heavy goods vehicles, machines for construction, handling, mining and quarries, a very wide variety of freight, people and raw materials transport sector activities, on sites and on the road.
You can choose MICHELIN tyres suited to your nature of operation when you buy your new vehicle, on demand from your dealer.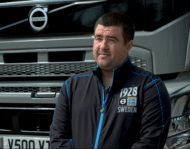 visuel témoignage volvo t tomlinson
VOLVO TRUCKS
"Boughey Distribution are one of our launch customers for the new FH. They've ordered several i-save Tractor Units. To complement that, they've ordered it with MICHELIN X® Multi™ Energy™ tyres. The new regional pattern will give them the most efficiency they can, so, yes, a very much smart move on their behalf". 
Martin Tomlinson
Head of Media, Product Demonstration & Driver Development for Volvo Trucks UK & Ireland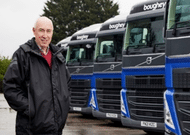 Boughey Distribution Group
"The decision to renew our entire fleet gave us the opportunity to analyse every aspect of the vehicle specification, and ensure it was fine-tuned for maximum efficiency. The team at Quinton Tyres recommended MICHELIN X Multi Energy tyres, and it just made perfect sense for us."
Paul Brimelow
Fleet Engineer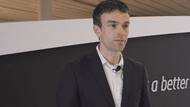 IRIZAR e-mobility TESTIMONIAL
"Irizar and Michelin have been working together for many years. In addition to the tyres being top quality(1), they are also balanced and rim-mounted"
(1) Voted manufacturer of the year at the Tyre technology expo 2019 and 2020.
José Miguel Garcia Reigada
Mechanical engineer Manager
Webinar – An ongoing journey toward sustainable transport
As climate changes, regulations are even more drastic towards transportation sector. We all play a role in reducing CO₂ emissions and we are fully committed to providing innovative solutions.
Let's take up the regulation challenge and achieve a sustainable transportation together by decreasing the CO₂ emissions.
MICHELIN - Webinar Original Equipment Truck & Bus - EN
Michelin, your sustainable partner
What does the new heavy duty CO₂ emission regulation say?
The new CO₂ regulation implemented by the European Commission leads the change towards a more sustainable freight transportation.

From 2025 on, manufacturers will have to meet new CO₂ emissions targets. Various parameters such as tyre rolling resistance will still be calculated using the VECTO tool to simulate fuel consumption and CO₂ emissions. This is where Michelin can help.
Reduce your CO₂ emissions with MICHELIN tyres
Trust Michelin to help choose the right tyre according to your usage and optimize your fuel consumption and mileage.
Tyre impact on TCO
TCO (Total Cost of Ownership) is an estimate of all the direct and indirect costs involved in acquiring and operating a product or system over its lifetime.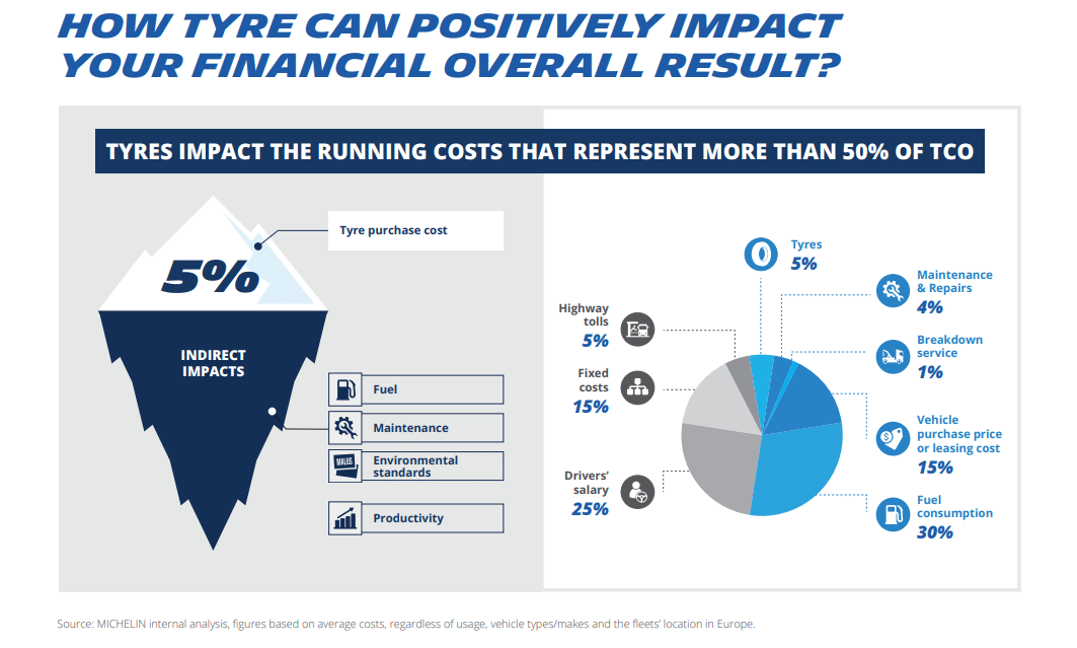 tyre impact positively your financial overall result tco2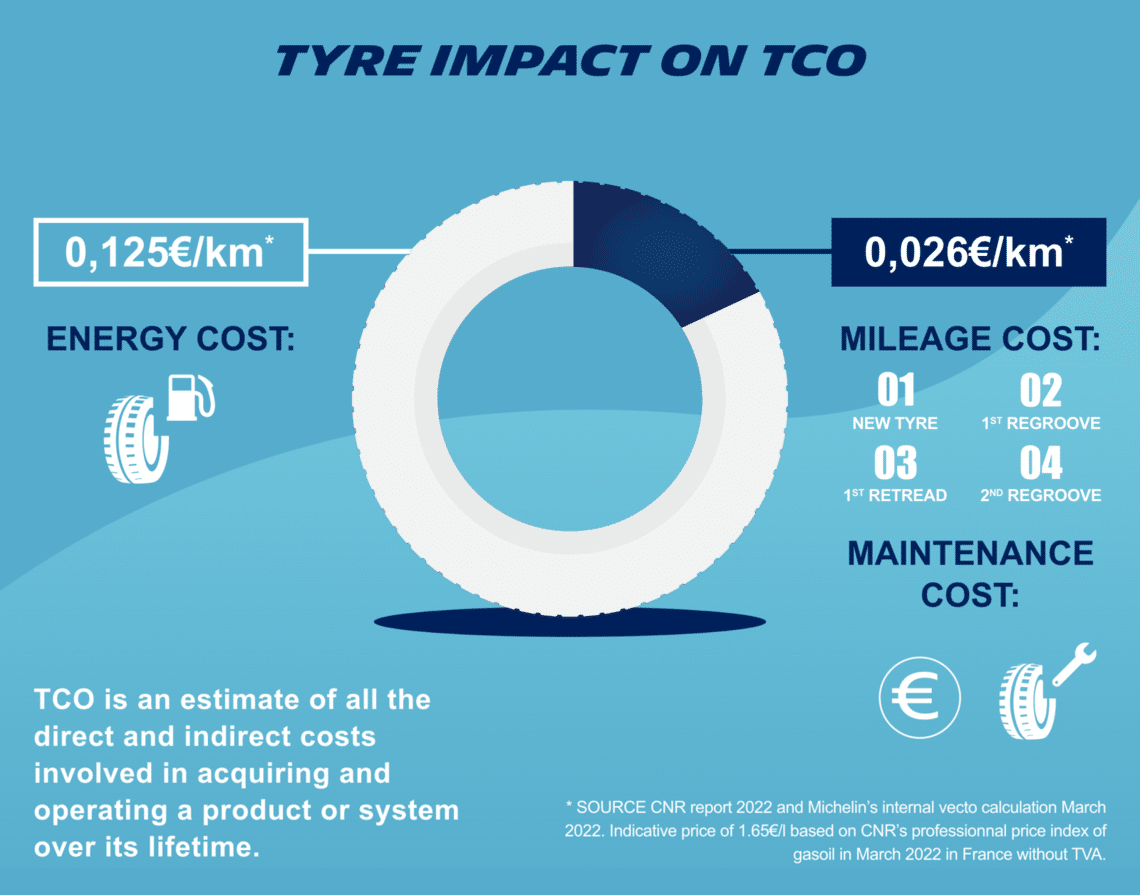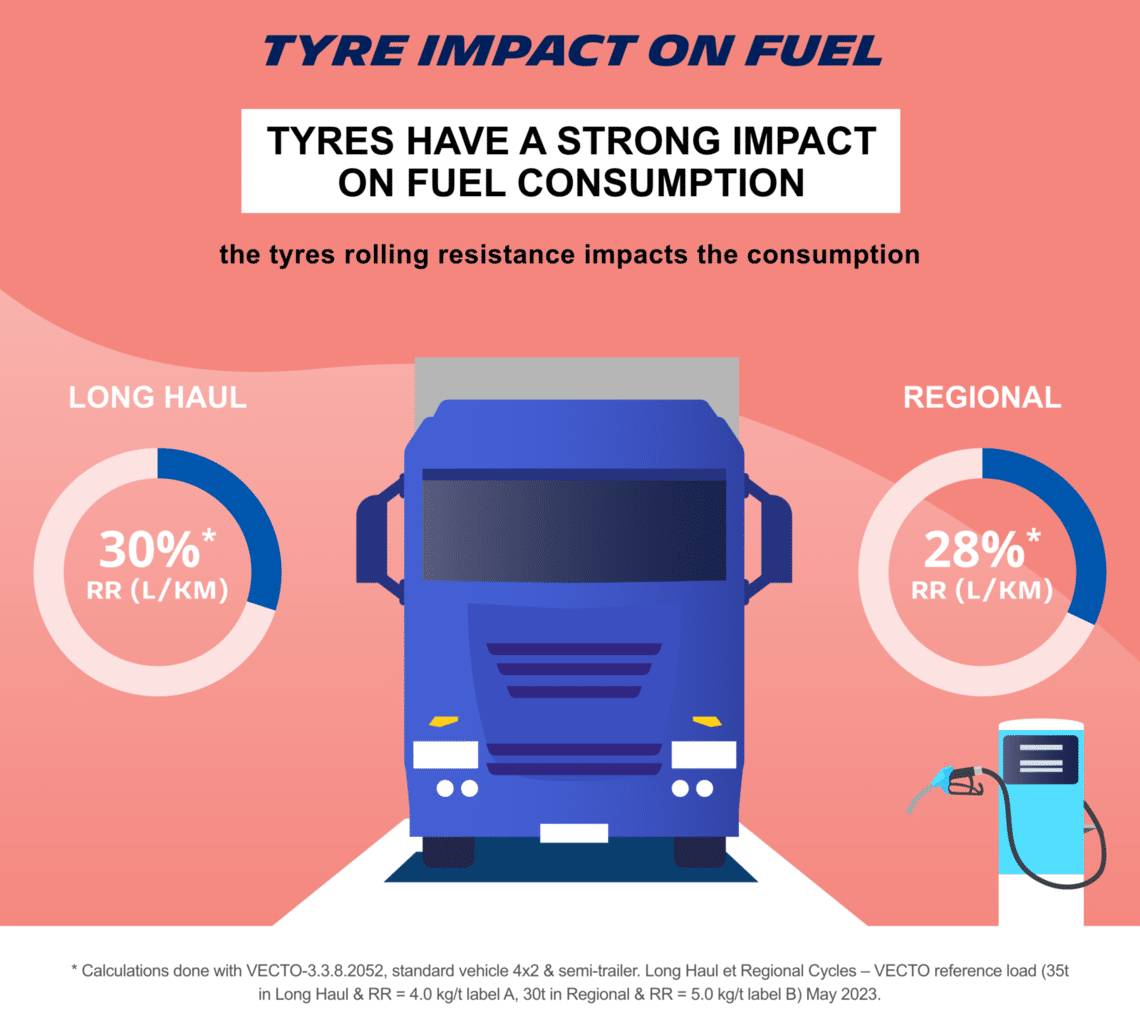 The Michelin way to reduce TCO
Michelin's overall mobility offer
Michelin freight mobility ecosystem approach is to satisfy it's customers needs.
Michelin offers not only low rolling resistance tyres, but, a better "overall tyre performance" through high technology.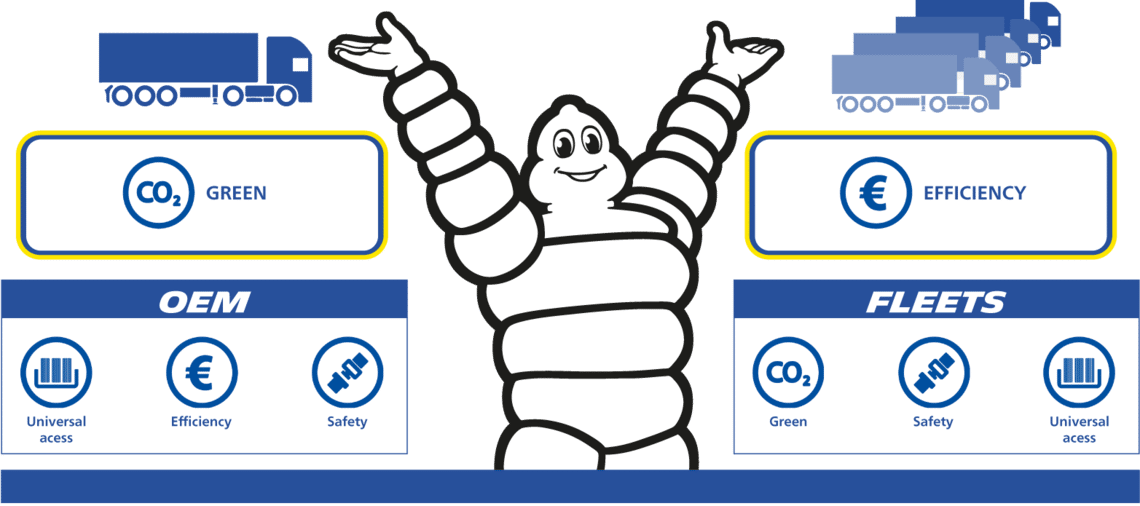 TCO is the key driver for truck business but low rolling resistance cannot come at any expense (Safety, adherence, handling, mileage).
Michelin offers you all its technology for low rolling resistance while still ensuring safety, mileage and grip handling: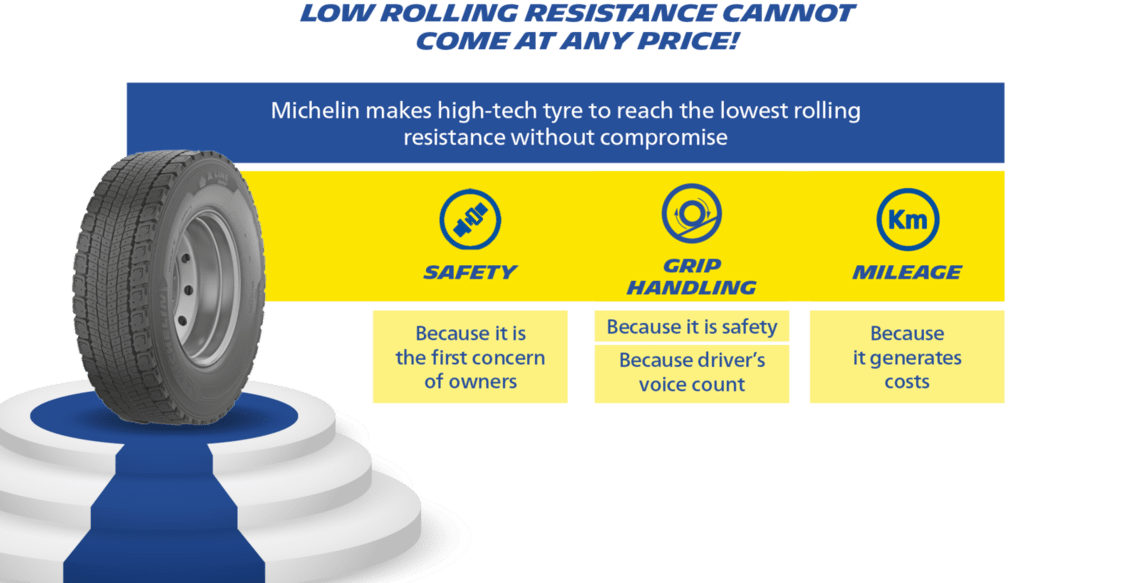 picture 2 fond transparent
Focus on 2 high tech ranges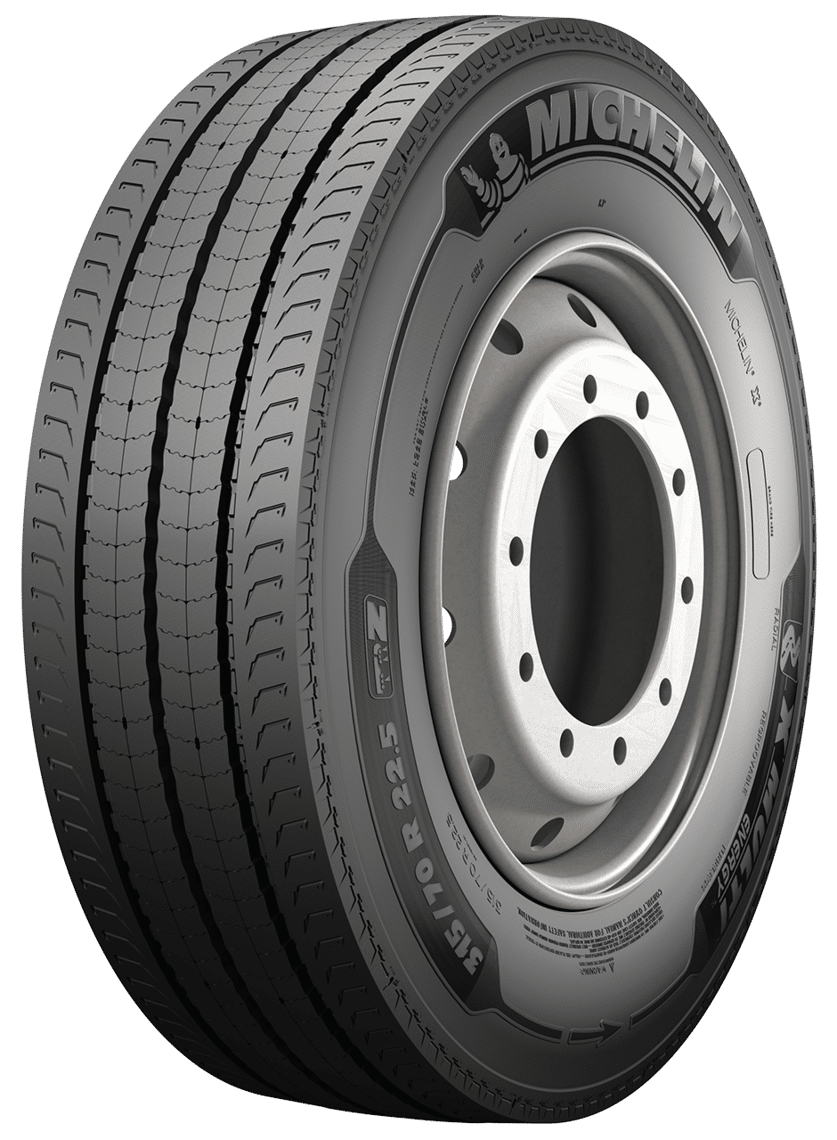 MICHELIN X MULTI ENERGY Z 315/70R22.5
x multi energy z 315 70 r22 5 34 Pneu Michelin poids lourd
MICHELIN
X® MULTI™ ENERGY™ Z / D
Our best solution for fuel savings in the MICHELIN's ranges.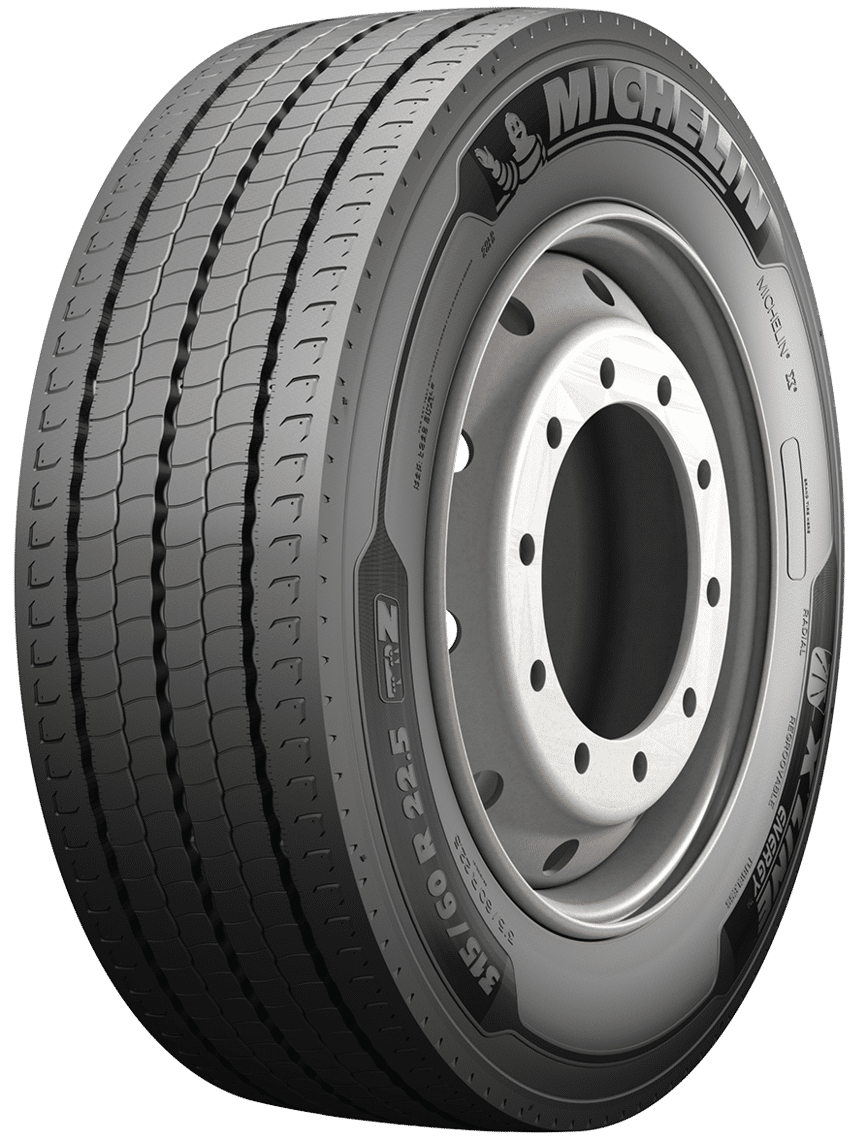 MICHELIN X LINE ENERGY Z (22.5)
x line energy z x line energy z 315 60 r22 5 pneu Michelin poids lourd vue de trois quart
MICHELIN
X® LINE™ ENERGY™ Z2 / D2 (22.5)
Our best TCO solution in the MICHELIN's ranges.
Michelin and you
Discover more professionals' testimonials on how Michelin brings peace of mind and efficiency in their daily businesses.
MICHELIN - INTRA - Company In Poland - MICHELIN X MULTI ENERGY - EN
MICHELIN - Michelin Irizar - short version - EN
MICHELIN - MAR POL - Company In Poland - MICHELIN X LINE ENERGY - EN
Other articles that might interest you:
(1) source: CNR report and Michelin's internal vecto calculation. Indicative price of 1.65€/l based on CNR's professional price index of gasoil in March 2022 in France without TVA
(2) Calculations done with VECTO-3.3.8.2052, standard vehicle 4x2 & semitrailer. Long Haul et Regional Cycles – VECTO reference load (35t in Long Haul, 28.6t in Regional).
(3) Last mm understood as until the minimum legal tread depth. Please refer to the minimum legal tread depth in your country.
(4) Source: Michelin internal measurements. Fuel efficiency and CO2 emission calculcations are based on VECTO tools with tyre MICHELIN 315/70 R 22.5 X® LINE™ ENERGY™ Z2 and D2 at 9b on a fully loaded truck in Long Haul application in comparision with same tyre at 7.5b, taking into account the wear and rolling resistance degradation. 120,000km/ year with 1.2€/l based on CNR's professional price index of gasoil in 2019 in France without TVA. Results may vary in real life according to vehicles, distances and load.