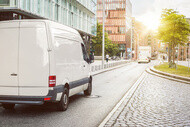 SAFETY EVERYTIME, EVERYWHERE
Tyres are the only point of contact with the road. That is why you need to be able to rely on them.
Keep your employees, your goods, and your business safe with our van tyres.
MICHELIN EXCELLENCE IN LONGEVITY
Need to run your business for longer without downtime?
Keep your business running with MICHELIN excellence in longevity from the first to the last kilometer.
Take care of your business, we take care of your tyres.

REINFORCED TYRES FOR PROFESSIONAL USE
Do you face severe conditions in your day-to-day operations?
MICHELIN van tyres are made to face severe conditions of use. Tyres are reinforced to take care of whatever your business demands.
MICHELIN Connected Fleet
FLEET MANAGEMENT. MASTERED.

MICHELIN Connected Fleet services and solutions are designed to provide the tools and information fleet operators and managers need to easily manage their fleets on a daily basis and transform their operational efficiency.
More than a supplier, we work as a true partner and accompany you with recommendations, based on your mobility data, so that you can reduce your costs, improve your productivity, ensure the safety of your drivers and manage sustainable fleets.