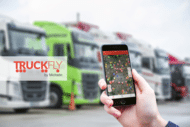 Background hero image truckfly Freight transport
Smartphone montrant l'app Truckfly sur un parking de camions
TruckFly
Truckfly by Michelin is the road companion for HGV drivers
Simplify your road journey with Truckfly!

Fed up with spending hours looking for HGV stops and points of interest along the way?
With Truckfly, find all the top HGV stops in a single application!
MICHELIN - Truckfly - Presentation - EN
FIND THE BEST HGV-ACCESSIBLE STOPS ALONG YOUR ROUTE
Anywhere in Europe, you will be able to locate:
Roadside restaurants
HGV parking facilities
Service stations
HGV cleaning stations
Transport companies
Delivery points for lorries
And look up all the practical information you need:
Hours
Address
Telephone
Number of HGV parking spaces
Showers
Wi-Fi
Fuel cards accepted
Menu prices
A SIMPLE, PRACTICAL AND 100% FREE APPLICATION
The application accompanies you in your daily life as a driver, providing a simple and personalised experience. In a few clicks, find HGV stops and plan your journey, refuelling stops, lunch breaks and rest stops, for a more carefree and pleasant journey.
Step 1: Visualise all the HGV stops and points of interest specific to road transport on the map, in satellite view and with the traffic in real time.
Step 2: Quickly find your point of interest using the rapid search tool to search by name, town, address or in the vicinity, or use category filters to compare options in a zone: roadside restaurants, HGV parking areas or service stations.
Step 3: Let yourself be guided! The journey to take you to your chosen locality is automatically traced in any GPS application installed on your smartphone.
Step 4: Personalise your application by entering your preferred stops in your favourites.
Step 5: During your break, take advantage of the News section to catch up on current road transport developments: new lorries, HGV events, transport careers, etc.
The extras: Share your experience with the community! Make your choice based on the comments and notes left by other drivers then in turn share your opinion on the point of interest visited.
JOIN THE TRUCKFLY BY MICHELIN COMMUNITY
Truckfly by Michelin is a participative platform where everyone can add new places, comment on various HGV stops and points of interest and share their good discoveries with other HGV drivers. With everyone's participation, the information is up to date, of quality and reliable.
Also benefit from the experience of other drivers: read their comments and notes, make your choices and give your opinion on restaurants, parking, service stations or vehicle cleaning stations. The more you contribute to the application, the more points you earn: take up the challenge and become one of the best Truckfly by Michelin lorry drivers!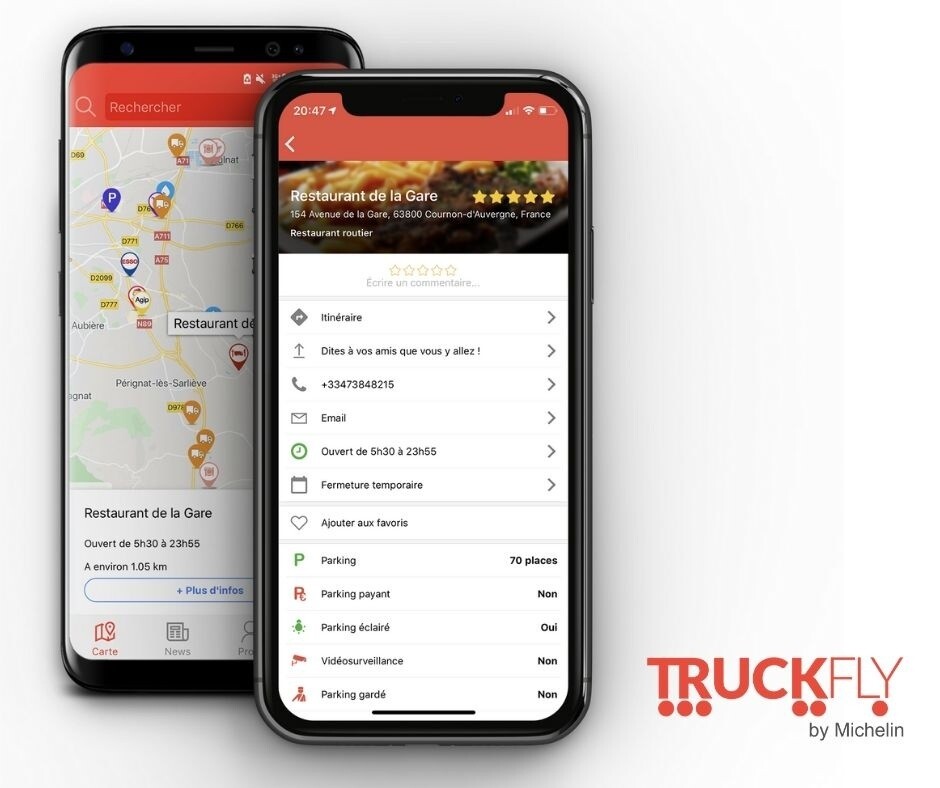 Picto image truckfly restaurants Freight transport
App Truckfly précisant les restaurants alentours
YOUR MOBILITY PARTNER
Michelin is at your side to simplify your route and help you complete your assignments on a daily basis. Our teams work for you with enthusiasm and devotion and regularly update the application. Don't hesitate to provide us with feedback. Your views are valuable and contribute to improving your application.
See you very soon, on the road with Truckfly by Michelin!

Start at once with Truckfly!