Robust and durable trailer tyre
Reliability in everyday use
A cost-effective solution

Bakcground Image of a truck - landscape and river
Camion bleu en bord de rivière à la montagne

Bakcground Image of a truck - landscape and river
Camion bleu en bord de rivière à la montagne
For your trailer equipped with 425 65 R 22.5, 245/70 R19.5, 265/70 R19.5, 285/70 R19.5 or even 9.5 R17.5, the MICHELIN XTE2 / XTE2+ tyre is the proven solution with good reliability and durability
For your trailer equipped with 425 65 R 22.5, 245/70 R19.5, 265/70 R19.5, 285/70 R19.5 or even 9.5 R17.5, the MICHELIN XTE2 / XTE2+ tyre is the proven solution with good reliability and durability
WHY CHOOSE THIS TYRE?

Optimise the tread pattern and casing:
When you buy tyres, you look for a good investment. Better to spend a little more upfront but use your equipment for longer.
And while the lifespan of any new MICHELIN tyre is already substantial, you can, just as for any other MICHELIN HGV product, regroove it using the XTE2 / XTE2+ solution to increase mileage by up to 25%. Once you have reached the legal tread limit, have your tyre retreaded by taking advantage of the MICHELIN REMIX™ solutions and enjoy similar performance as a new tyre.
Reliability in everyday use:
The cargo in trailers is sometimes very heavy, and it's not always easy to ensure it's ideally distributed. MICHELIN XTE2 and XTE2+ tyres will stay by your side for a long time thanks to their sturdiness and reliability. The rubber compound on the tread optimises scrub resistance.
Discover the MICHELIN HGV range
An offer designed to meet all of your needs:
MICHELIN - Tyres range - Truck & bus - EN
RELATED SERVICES AND SOLUTIONS
Labelling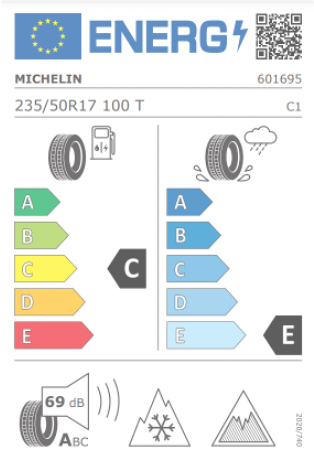 FUEL EFFICIENCY CLASS

C

WET GRIP CLASS

B

EXTERNAL ROLLING NOISE CLASS

5.8
Technical Specifications
| | |
| --- | --- |
| Product | MICHELIN XTE2 - 9.5R17.5 |
| Position | T -Trailer |
| M+S | No |
| 3PMSF | No |
| RFID | Yes |
| Overall Diameter | 33 inch |
| Recommended Rims | 6.00x17.5 |
| Approved rims | 6.75x17.5 |
| Min dual spacing | 10.63 inch |
| Pressure single | 8.5 bar |
| Pressure dual | 8.5 bar |
| Max load per axle for single fitment | 5460 kg / 12037 lbs |
| Max load per axle for dual fitment | 10320 kg / 22752 lbs |
| Load Index (single fitment) | 143 |
| Speed Index | J |
| CAI | 110939 |
Regrooving info
| | |
| --- | --- |
| Theoretical regrooving depth | 0.12 inch |
| Regrooving width | 6 - 8 |
| Blade | R3 |
| Regrooving pattern | |