Driver training: the key to efficiency!
Professional training is a strategic challenge for fleet owners. Why is it so important to provide regular driver training to boost efficiency? What training (beyond your legal obligations) should you provide, and when?
We went to southwestern France to meet with operations manager Patrick Ambal and driver Alexandre Frouillou.
Patrick and Alexandre both work for Tout pour le fruit, a transportation company based in the lively National Interest Market - a Wholesale market in Montauban. Founded in 1987 by Pierre Bournet, the company currently has 40 employees, mostly truck drivers.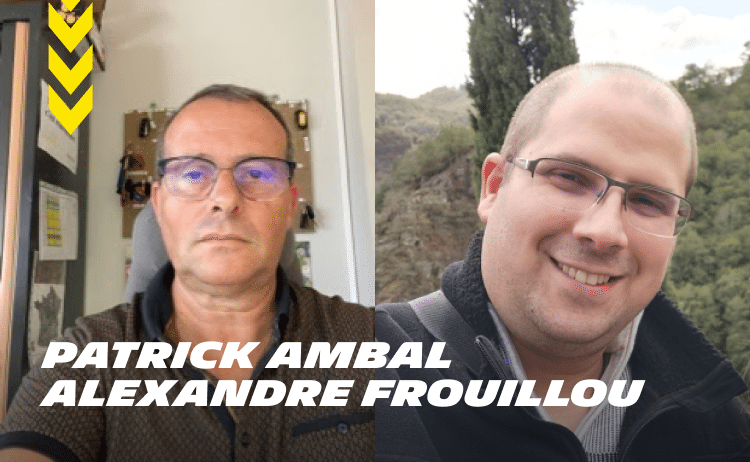 Patrick Ambal, Operations Manager Tout pour le fruit et Alexandre Frouillou truck driver, Tout pour le fruit
"My name is Patrick Ambal, I'm 57. I got into the transportation business somewhat accidentally, by way of construction. After serving in the French army engineering corps until 2000, I spent about 15 years running my own vacuum excavation business, where I had 3 employees.
In 2016, I joined Tout pour le fruit as a long-distance national truck driver."
In March 2021, after a colleague left the company, Patrick became the operations manager for the company's 3 sites. "I coordinate a total of 34 drivers. Our fleet has 10 rigid-frame trucks, 15 tractors, and about 20 trailers," explains Patrick.
The more training drivers have, the more peace of mind they will have on the job, and the more they can enjoy the work. Knowledge eliminates potential sources of stress and anxiety.

Patrick Ambal, Operations Manager, Tout pour le fruit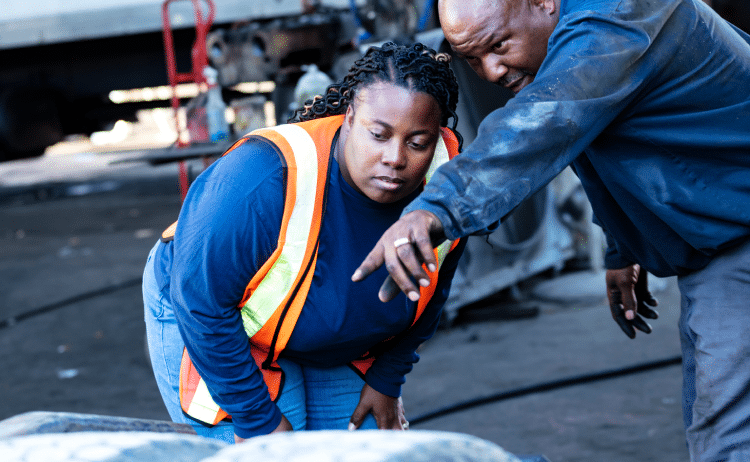 When we ask about the importance of training, his response is immediate: "The more training drivers have, the more peace of mind they will have on the job, and the more they can enjoy the work. Knowledge eliminates potential sources of stress and anxiety. When you combine theory and practice, you can find solutions to problems more quickly."
Patrick believes that drivers' top priority should be concentrating on driving, without being distracted by any potential technical problems they can't handle. "I've driven with the drivers, and it used to be my job. I really understand their daily lives."
When Michelin offered him a short training module on better tyre checks, he jumped at the opportunity.
Three years ago, in July 2019, all of Tout pour le fruit's drivers took turns completing Michelin's half-day training on tyres.
"It's unusual to have your drivers do training that's not required by law," says Edouard Fadel, a BtoB customer trainer at Michelin, who provided the training at Tout pour le fruit. "Pierre Bournet, who owns the company, had noticed that his drivers weren't always checking over their vehicles. He wanted to empower them to handle maintenance on the trucks they drive, especially the tyres. That avoids losing time due to a breakdown on their delivery route."
Alexandre Frouillou, 31, who has been a truck driver with Tout pour le fruit since 2017, remembers it well.
"I learned a lot during the training. It also brought back a lot of practical things I had learned in my original career as a mechanic."
Alexandre, who has a vocational high school diploma in auto mechanics, spent time working in a garage before changing careers to become a truck driver.
"In the garage, I would sometimes change truck tyres. It's a basic procedure but I certainly wasn't an expert. I had no idea about procedures like retreading or regrooving. I didn't know when you needed to change or rotate tyres."
Edouard Fadel explains: "Regrooving can offer an additional 25% more mileage and up to 2 litres per 100 km in fuel savings compared to a full set (tractor + semi-trailer) of new tyres. It also boosts grip by 10% compared to an end-of-life tyre that isn't regrooved."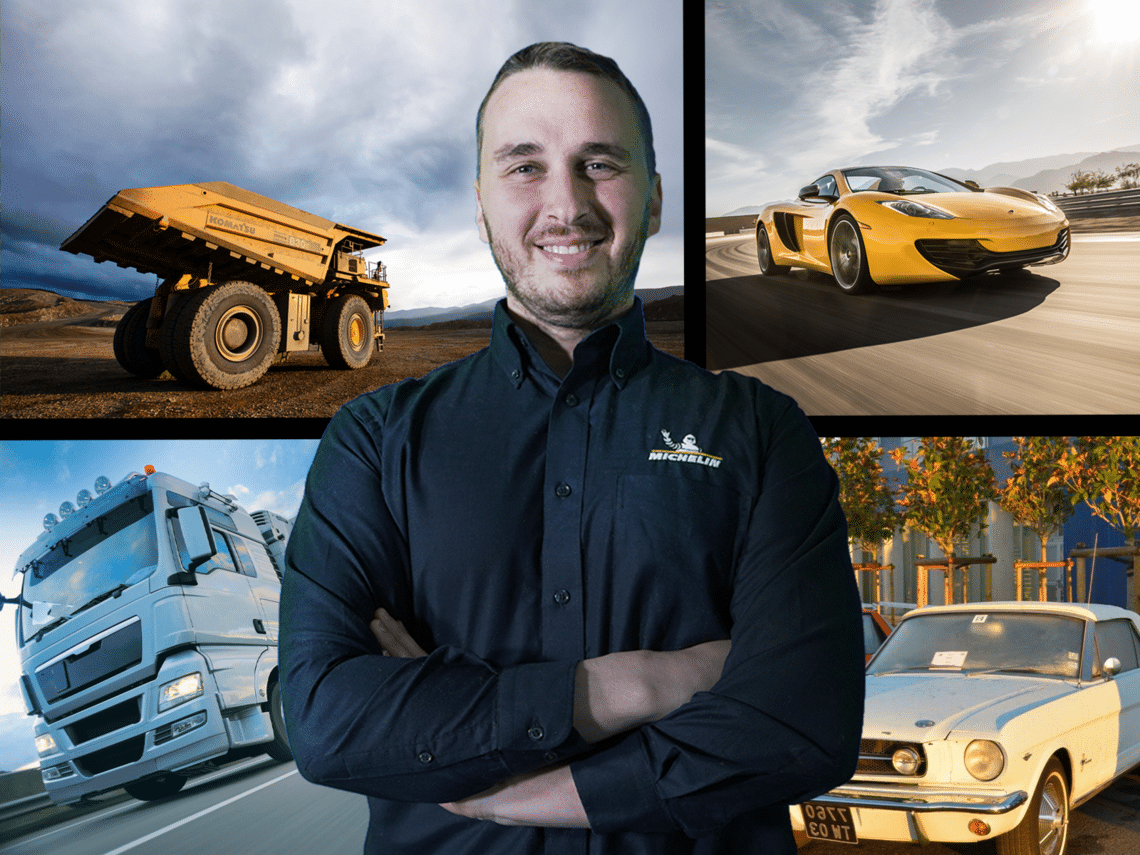 Edouard Fadel, BtoB customer trainer at Michelin

After the training, Patrick made Alexandre the Montauban site tyre manager.
"As the tyre manager, I'm responsible for tyre inventory. I check the tyres every 2 weeks. When drivers need advice, I give them an initial opinion if I can. And I get help from the garage tyre expert when I need to," explains Alexandre.
"Alex is a conscientious driver who is nuts about mechanics. He is eager to learn and get training. I really appreciate that. This job takes passion," says Patrick.
He says: "Some drivers are really proactive and motivated, while others feel like training is pointless or even a waste of time. And it has nothing to do with their age or level of experience."
"I won't necessarily ask for specific training, but if someone offers it, I'm always in. I like learning new things on a regular basis."

Alexandre Frouillou, Truck driver, Tout pour le fruit
"I won't necessarily ask for specific training, but if someone offers it, I'm always in. I like learning new things on a regular basis," says Alexandre, who just completed his second round of mandatory training in February of this year.
As its name indicates, that training is mandatory. All active French truck drivers must complete it every 5 years.
It lasts 35 hours and can be done over 5 consecutive days or split into 3 days and 2 days.
The goal: to bring truck drivers' knowledge of goods transport vehicles over 3.5 tonnes up to date.
"I find the training on trucks interesting. With modern trucks, which are crammed with electronics and technologies, you can't intuit how it works if no one explains it to you. We need a minimum of support to learn how to use them. It takes time up front, but saves time down the road," says Alexandre.
Patrick agrees: "I'm going to set up training on how to use the new digital tachographs soon. A lot of drivers find them stressful, and I really want to avoid that for my teams."
Since 2006, digital tachographs have replaced the old paper disk devices used in vehicles over 3.5 tonnes in Europe. Their main function is to record driver data. In other words, they are driver logs.
Tachograph maps are used by one million transportation companies and over six million professional drivers across Europe (2).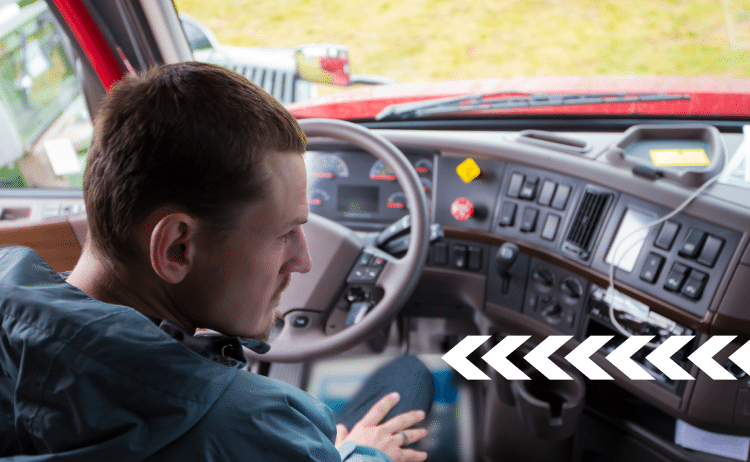 In addition to training, Patrick notes the importance of mentoring at the company to support new drivers:
"Mentoring is key. It means guiding new drivers, whether they're interim employees or have permanent contracts. It's part of our training program. Thanks to the mentors passing on their knowledge, we increase our future efficiency. I've set up mentoring (one new employee and one older employee) by sector: regional or national. Mentoring lasts a maximum of 2 to 3 months. Honestly, some are quick learners, others not so much..." notes Patrick.
One last question, and not a minor one: when can you schedule training to avoid disrupting the drivers' work too much?
Patrick answers: "as is often the case in our line of work, it's all about planning ahead. If you plan ahead, it won't disrupt the flow of work too much. But short, one-day or even half-day sessions are clearly the best fit and very much appreciated in our business!" IDEAS TO FOLLOW
1- Regularly ask your drivers about the problems they encounter on the job so you can offer them the right training. Like Alexandre, they will be interested if you proactively make suggestions.
2- Don't hesitate to ask your equipment suppliers for short training courses. They are there to listen and help you use their products and services better.
3- Consider using mentoring to help onboard and integrate new drivers. It's an amazing internal training resource and a great productivity booster!

(1) Study by the British firm Transport Intelligence (TI) published in 2021
(2) https://www.thalesgroup.com/fr
Interview with Patrick Ambal on 4 April 2022.
Interview with Alexandre Frouillou on 5 April 2022.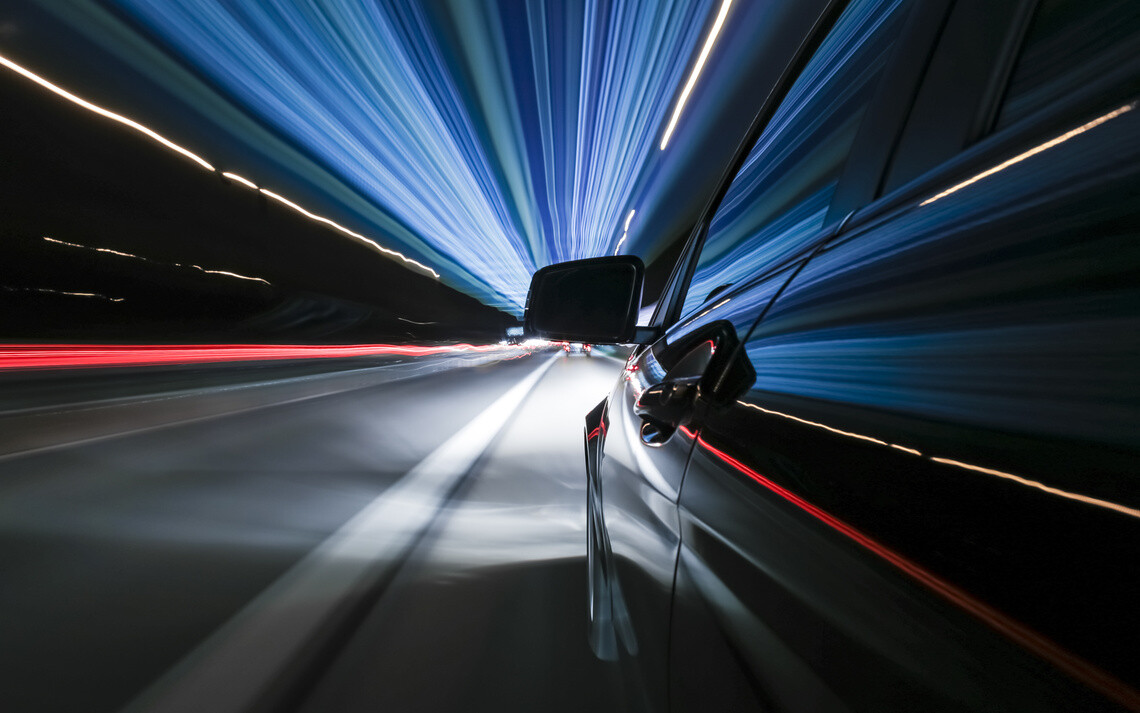 gettyimages 930571046
car going fast on a road by night